Portada de la reedición de Guerssen
La discográfica Guerssen de Lleida acaba de sacar en junio de 2012 una reedición con el acetato tal cual se editó con la música del oscuro grupo de psicodelia Axe/Crystalline. Como no existen másters, han remasterizado con la única copia localizada del acetato (no existe ninguna nueva). Presentan una nueva portada con insert donde podrás disfrutar de notas a cargo de Paul Cross (Sweet Floral Albion). y además, un CD con el audio del disco más una pista de vídeo con imágenes de la banda en directo en 1970, extraídas de una filmación de super 8 sin sonido a la que han añadido audio del acetato.
Portada de la edición de Kissing Spell
Axe, también conocidos como Crystalline o como Axe Music, es uno de los grupos británicos más oscuros y desconocidos de finales de los sesenta. Formados en 1968, grabaron un acetato entre 1969 y 1970, en los estudios Beck de Northampton, del que solo se conocen unas seis copias y que no se editó hasta la década de los noventa en ediciones de CD y un Lp por las discográficas Si-Wan Records y Kissing Spell. En concreto, se sacaron tres Cd con música grabada en estudio, ocho canciones en total, y el resto en directo. Los temas grabados en el studio por Axe son "Here To There", "Ahinam II", (segunda parte de "A House Is Not A Motel"), "Another Sunset, Another Dawn", "The Child Dreams" (dividida en tres partes; "Night Fall", "The Child Dreams" y "Here To There"), la mencionada "A House Is Not A Motel", version del tema de Arthur Lee de Love, "Peace Of Mind", "Dark Vision", "Strange Sights And Crimson Nights" más "Here To There", grabada en directo en 1969 que aparece en el Cd pero no en el vinilo.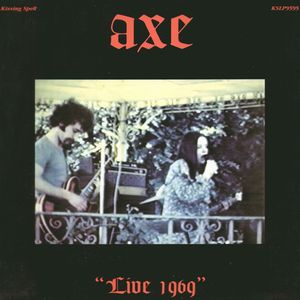 Portada de "Live 1969"
También se comercializó un Cd con el título de "Live 1969". Ese disco en directo, editado por Kissing Spell, contiene versiones de los Jefferson Airplane, Traffic, Canned Heat, Neil Young, Judy Collins y Tim Rose. Les acompaña un saxo del que no consta su nombre.
Axe estaba formado por Lord A.Barford (guitarra), Duke S.Gordon (baterista), Sir M.Nobbs (bajo), Countess Vivienne (voz principal) y para esa grabación les acompañó Roger Hilliard a la guitarra acústica. Al parecer, en la reedición de Kissing Spell se remezclaron algunas canciones, se añadieron efectos de sonido e incluso solos de guitarra a cargo de Gary Ramon (Sun Dial).

Portada "Middle Earth & Axe"
Otro de los discos donde podemos escuchar temas de Axe, en este caso demos, es en el álbum titulado "Middle Earth & Axe" que fue editado por Kissing Spell y que contiene en la cara A, cuatro temas de 1969 de Middle Earth ("Witchcraft", "Ride", "I've Got a Line on You", y "My Friend") y en la cara B, cuatro de temas de Axe de 1974 ("Rushing to the Earth", "Away From The City", y un par de instrumentales de "Rushing to the Earth y otro sin título) más dos canciones de un grupo desconocido, grabadas en 1971("Smiling Sisters" y "River Lane").
A destacar que en 1972 salió al mercado discográfico un single con el tema "People Come, People Go" con la discográfica MCA. La banda se llamaba Axe y su guitarrista era Mark Griffiths (Harsch Reality, Matthews Southern Comfort). No se ha podido establecer relación alguna y se desconoce si se trata de los mismos Axe.
Detalles y dudas a parte, lo verdaderamente importante es que las canciones de Axe son obras maestras de finales de los sesenta. En su música mezclaban detalles de folk ácido, west coast, dura psicodelia y algo de rock progresivo. Con una voz encantadora, más endiablada que angelical en mi opinión, y con esos solos de guitarra fuzz apoteósicos, conseguían unos resultados hipnóticos y magistrales.