Para esta semana el disco Monterey recomendado es el primer trabajo de los míticos Morlocks, el mini Lp "Emerge", grabado en 1984, que salió con Midnight Records y que también puedes conseguir en una reedición de Area Pirata. Los Morlocks se crearon tras la disolución de los Graveddiger V y ambas bandas regresan a los escenarios de vez en cuando con notable repercusión y entusiasmo del publico experto en música "garage". Las dos formaciónes fueron de lo mejor del revival garage punk de los ochenta. A destacar también que su líder, el incombustible Leighton Koizumi acaba de colaborar en la grabación del disco de debut de los valencianos Glurps.
Gravedigger V
es una banda de "garage" revival incluida dentro del llamado sonido Paisley Underground, que en realidad no era una escena temática cerrada sino un conjunto de bandas con lazos de amistad que coincidieron en Los Angeles (California) alrededor del punk. Se formó en 1984 en San Diego, California, por Leighton Koizumi (voz), Chris Gast (bajo), Ted Friedman (guitarra), John Hanrattie (guitarra) y un baterista llamado Matt del que nadie recuerda su apellido, todos ellos de edades comprendidas entre los 15 y los 17 años. Matt pronto fue sustituido por Dave "The Animal" Anderson.
Primero se hacían llamar The Shamen pero descubrieron que otro grupo ya tenía ese nombre y lo cambiaron por el de Graveddiger V gracias a una camarera que al preguntarle qué le parecía, lo consideró estúpido. Después de unos cuantos conciertos, con algunos problemas debido a la corta edad de los músicos, ese mismo año firmaron con el sello Voxx / Bomp y lanzaron su primer álbum, "All Black and Hairy". Lamentablemente, el abuso de ciertas sustancias estupefacientes comenzó a hacer estragos en algunos de sus componentes y así fue como Gast fue reemplazado por Tom Ward. Su segundo y último álbum "The Mirror Cracked" fue editado en 1987. Se trataba de una mezcla de demos, temas en directo y rarezas.
The Morlocks. Inicios
A continuación, Friedman y Koizumi formaron The Morlocks. Dave Anderson estuvo en varias bandas como Manual Scan, Trebels, Crawdaddies entre otros. Tom Ward pasó también por otros grupos como Manual Scan, The Optic Nerve hasta llegar a The Ramblers Nashville entre otros. Aunque tocaron en diferentes días, los Standells y los Gravedigger V se reunieron para tocar en el Cavestomp de 1999, famoso festival de "garage" en Nueva York. La edición de ese año tuvo lugar en el Westbeth Theatre Center del 5 al 7 de noviembre. En ese concierto tocaría también Chris Gast que murió en 2000.
Leighton Koizumi
Durante más de diez años se creyó que Koizumi había fallecido por una sobredosis de drogas e incluso una revista llamada Spin llegó a publicar la noticia de su defunción a finales de los noventa. Pero en realidad había pasado un tiempo apartado de la fama y de las multitudes por ciertos problemas con la justicia norteamericana. Volvió acompañado de los italianos Tito & Thee Brainsuckers con los que editó un álbum en 2004 titulado "When the Night Fall". En la actualidad reside en Valencia donde recientemente creó un nuevo combo Gravedigger V con la ayuda de músicos destacables de la escena "garage" punk como Isidro y Fletán, órgano y batería de los "Wau y los Arrrgs!!!", Looch "Magnetix" y Gigante, bajista de "Los Perros"
The Morlocks. 2011
The Morlocks
es una legendaria banda de "garage" estadounidense formada en San Diego, California, en el año 1984 con el guitarrista Tommy Clarke, el bajista Jeff Lucas (aka Jeffrey Luck Lucas ), el baterista Mark Mullen, y el carismático cantante Leighton Koizumi, más el guitarrista Ted Friedman. Estos dos últimos formaban parte de los Gravedigger V hasta su disolución. Su primera actuación tuvo lugar en 1984 en los Ángeles y en diciembre de ese año grabaron su primer mini-LP, "Emerge", para Midnight Records de Nueva York con instrumentos rotos durante un show en San Francisco dos días antes por
la banda The Tell-Tale
Hearts quienes se los prestaron. El álbum fue producido por Jordan Tarlow, alías de Nadroj Wolrat, que estaría con los Fuzztones. El álbum salió en 1985. Después la banda se trasladó a San Francisco desde donde sacaron su siguiente trabajo para Epitaph records llamado " Submerged Alive" y grabado en 1986 en Berkeley (California) aunque con algunas manipulaciones en estudio. En 1987, Jeff Lucas deja la banda y el resto aún grabó unas cuantas canciones producidas por Ron Rimsite antes de separarse. Esas grabaciones fueron editadas más tarde en single y tras su separación vieron la luz otros discos como un directo en Croacia llamado "Wake Me When I'm Dead" (1991) y otro directo proporcionado por el guitarrista Friedman con el título de "Uglier Than You'll Ever Be!" (1997).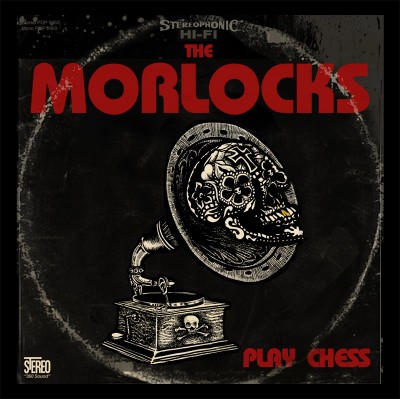 Volverían a los escenarios en la década de los dos mil. En el año 2008 editaron un álbum llamado
"Easy Listening For The Underachiever" para Go Down Records, grabado con Joe Baluta y Bobby Jones al bajo; Marky a la batería; Lenny Pop a la guitarra; y Nick Jodoin a la guitarra; más Shariff Dumani al piano. En 2008 también editó un single Dirty Water records con los temas
I Don't Do Funerals Anymore y Nightmares. En 2010 Fargo editaba un álbum llamado The Morlocks Play Ches con enormes versiones de clásicos de
la Chess Records
de Blues, R&B y Rock 'n' Roll originales de Howlin' Wolf, Bo Diddley o Chuck Berry.
Discos Monterey dispone de un amplio catálogo de estilos, Surf, Garage, Psicodelia, Pop, Progresivo, Folk, Hard rock, 70's, Punk, desde los cincuenta hasta la actualidad con preferencia por los discos de vinilo. Hay que destacar también que, en estos momentos, su responsable, Víctor, lo es también de dos líneas de edición discográfica: Discos Jaguar, con los que han visto la luz el primer Lp de los Pataconas, los dos Ep's de los Midnight Shots y el de los Mexican Moustache, así como otro sello llamado Discos Monterey con el que salió el primer álbum de Sonlosgrillos. También organiza el festival

Datura Folk

así como las conocidas y esperadas fiestas de aniversario de la tienda.
Cada semana os presentamos uno o varios trabajos discográficos, enmarcados en un estilo coherente con nuestra linea editorial. Para ellos escribiremos una reseña de esos álbumes, bien sea actuales o del pasado, originales o reeditados, acompañada de fotos y un documento audiovisual de uno de los temas del Lp o sencillo recomendado. Los textos corren a cargo de Magic Pop, con la asesoría musical de Monterey.