Darryl Cotton nació el 4 de septiembre de 1949 y murió el 27 de julio de 2012. Fue un conocido cantante australiano de pop, actor y presentador de televisión. Formó parte de los Zoot, grupo mod que fue evolucionando hacía el pop "bubblegum" y más tarde al hard rock, creado en Adelaide (Australia) en 1965 con el nombre de Dwon The Line. En 1967 cambiaron por el de Zoot y en 1968 se instalaron en Melbourne antes de su disolución en 1971.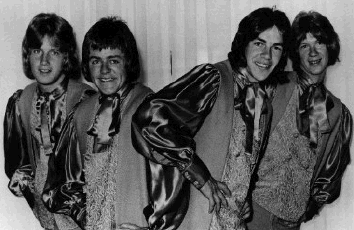 John D'Arcy, guitarra y voz, y Gerard Bertlekamp más conocido como Beeb Birtles, en un principio a la guitarra, se unieron mientras estaban en la escuela secundaria con el baterista Ted Higgins y un bajista. Corría el año 1964. Birtles se cambió al bajo y añadieron a Darryl que había sido el vocalista de la banda rival local, los Mermen. Al año siguiente ya tenían montados los Dowen The Line, nombre con el que interpretaban versiones de los Hollies y Roy Orbison. Al poco se les unió a la guitarra rítmica, Gordon Rawson. Su repertorio se basó en versiones de los Move, The Who y los Small Faces presentándose en los clubs de la zona como un grupo mod. Su single de debut en 1967 contaba con el tema "Sadie (The Cleaning Lady)" y en la cara B, "In My Room", escrito por el cantante Johnny Farnham. Fue entonces cuando cambiaron al nombre de Zoot.
A principios de 1968 D'Arcy fue sustituido a la guitarra por Steve Stone. D'Arcy entró a formar más tarde de los Allison Gros and Drummond, después conocidos como Mississippi y más tarde los Little River Band. Se trasladaron a Melbourne para triunfar en el mercado discográfico pero pese a ser una de las bandas más populares de la época, los críticos les tacharon como banda de "teenybopper" o "Light bubblegum", algo así como fácil y sin consistencia apta solo para los teenagers a raíz de una campaña de promoción de su siguiente single en la que los músicos estaban vestidos completamente de rosa. Zoot firmó con Columbia Records/EMI y grabaron un single con el tema "You'd Better Get Goin' Now", una versión de Jackie Lomax. Su siguiente sencillo con el tema "1 × 2 × 3 × 4", salió en diciembre de ese año y se incluyó en el Ep de 1969, titulado "4 Shades of Pink". Rick Brewer entró a la batería y Roger Hicks fue substituido más tarde por Rick Springfield. Siguieron otros singles pero también proliferaron numerosas burlas homofóbicas en los medios de comunicación hasta que en los setenta en un programa de televisión le prendieron fuego a los trajes de color rosa y hasta sacaron una canción para reírse de si mismos y de sus trajes con el título de "Hey Pinky". A principios de los setenta sacaron un álbum llamado "Just Zoot" y una versión del "Eleanor Rigby" de los Beatles que en 1971 se convirtió en su canción más popular. Su siguiente single "The Freak" / "Evil Child", ya tenía más toques de hard rock. RCA quiso llevarles a los Estados Unidos para grabar pero tuvieron problemas con los permisos de trabajo. Finalmente se separaron sin poder distanciarse de la imagen de grupo "rosa" pese a sus esfuerzos por tocar hard rock.
Después de Zoot, Springfield empezó una carrera en solitario y triunfó a partir de 1972 en los Estados Unidos. Birtles y Darryl formaron un grupo llamado Frieze patrocinados por una empresa de ropa y finalmente Birtles se unió a los Mississippi que se convirtieron en los Little River Band en 1975 y Darryl creo los Cotton Keays & Morris antes de entrar en el mundo de la ópera y la televisión
. Brewer estuvo en multitud de bandas entre los que destacan los Ferrets en 1976.
La banda volvió a unirse en 2011.
Vídeo de la televisiòn con
el tema "You'd Better Get Goin' Now", una versión de Jackie Lomax.
Su original versión del "Eleanor Rigby" de los Beatles, de 1970.