Foto: Eva Segura
La gira prevista para conmemorar el treinta aniversario de Brighton 64 es una gran noticia que me invita a compartir con todos vosotros unas cuantas reflexiones probablemente prescindibles y de importancia relativa, sin que me lleguen a causar ningún tipo de problema existencial pero con una necesidad emocional de explicarlas. Más bien se trata de unas cuantas ideas que me vienen a la cabeza al recordar esas tres décadas de un grupo que para mí fue y sigue siendo trascendental.
En primer lugar creo que estamos ante una necesaria y justa celebración que va a ser gratificante tanto para sus fans de siempre como para aquellos que han escuchado de pasada alguno de sus temas y más bien han oído hablar de sus andanzas a sus hermanos mayores, o incluso padres, que vivieron los ochenta.
Han pasado ya treinta años de los inicios de un grupo seminal para el movimiento mod en este país que tuvo una trayectoria caracterizada por una lucha contra demasiadas adversidades, la mayoría de ellas extra musicales. Gracias a esa constancia por seguir siempre adelante, a veces enfrentados a situaciones verdaderamente decepcionantes y grotescas, con convencimiento y actitud, sus seguidores pudimos disfrutar de grandes canciones que siguen proporcionándonos

momentos inolvidables tanto a nivel personal como colectivo.
Brighton 64 abrieron en muchos de nosotros la posibilidad de aplicar, en nuestro ámbito geográfico más próximo, ese modernismo de raíces sixties que conocíamos por Quadrophenia, los Jam, y poco más del revival británico de finales de los setenta y principios de los ochenta. Nos sentimos identificados de inmediato con sus canciones y con su peculiar estilo mod, fiel a esos patrones propios de un movimiento al que aportaron un toque personal, original y nada despreciable.
Sus primeros enemigos surgieron precisamente por su declaración de principios y no precisamente por parte de rockers, ni punks, ni ninguno de sus "potenciales" enemigos tribales. Nada de eso. Sus principales detractores estuvieron en "nuestras" propias filas de mods, individuos a los que todo les parecía mal a excepción, claro, de su incipiente colección de discos. Mods cuyo comportamiento, más arrogante que elitista, creó un ambiente de animadversión generalizada por parte del resto de tribus urbanas, llegando a contagiar al resto de simples mortales que de esas historias no tenía ni la más remota idea. Si a eso le sumamos las estúpidas batallitas entre adolescentes vestidos con parkas y navajeros con tupé que intentaban copiar la película Quadrophenia y que acabaron hasta con un muerto en la puerta del Rockola de Madrid, nos haremos una idea de cómo lo mod acabó siendo una forma de entender la vida con soberbia, chulería, de derechas, españolista, y así hasta un largo abanico de menosprecios e insultos que, al final, nos llevaron a muchos a "colgar la parka" decepcionados ante tanto "individualismo" mal entendido.
Brighton 64 también fueron víctimas de una política discográfica nefasta que les abandonó en su mejor momento y, de paso, de una crítica feroz con marcado carácter nacionalista español que a mediados de los ochenta se obsesionó con la búsqueda de un estilo de rock and roll que debía pasar necesariamente por la fusión con el folklore andaluz. Esa era la única forma, a entender de algunos medios, de no sucumbir al vasallaje estéril hacia el pop rock británico. Mediante esta política musical tan forzadamente patriótica, el rock no solo tenía que cantarse en español sino que debía sonar a "español", desde Pata Negra al Último de la Fila, pasando por Gabinete Caligari y llegando hasta nuestros días con los Planetas vía los experimentos ruidosos con insignes cantaores de flamenco.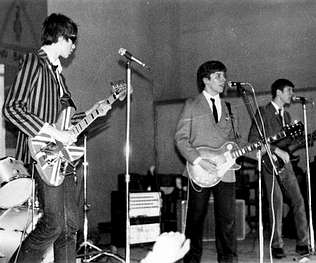 Pese a ese panorama entre rockero, torero y rumbero, Brighton 64 siguieron en sus trece componiendo buenas canciones con toques de powerpop y R&B, y con letras no menos memorables. Les escuché tocar en directo por vez primera en septiembre del año 1982, si no me falla la memoria, en un concierto celebrado en el bar Boira de la calle Amigó de Barcelona, que por entonces era todo un templo para los mods. Recuerdo que el local estaba abarrotado de público. Tampoco es que fuera muy grande pero para alguien como yo, cuya máxima concentración de mods vista hasta entonces se limitada a dos y medio como mucho, aquello fue apoteósico, verdaderamente sublime. Fue un gran concierto, que sonó como sonó, probablemente con bastantes defectos que, la verdad, no recuerdo,

y si me llegué a dar cuenta, los pasé por alto anonadado como estaba entre tanto entusiasmo juvenil desbordado.
Los Brighton 64 interpretaron sus canciones y versiones con la pericia instrumentista normal en un grupo que acababa de empezar,

y os aseguro que no faltaron ni los saltos a lo Bruce Foxton, ni el aspa a lo Townshend para pillar un acorde, ni otros tantos recursos de estilo propios de los buenos grupos británicos de revival mod 79. Fue un momento especial, mágico, que me marcó para siempre y cuyas sensaciones más íntimas permanecen inalterables en mi memoria. Cuando tengo necesidad de recordar dónde empezó todo, recurro a ese día, sin nostalgia pero con orgullo de haber estado ahí.

Y eso que tuve la suerte de asistir al concierto que en 1981 dieron los Clash en el pabellón de baloncesto de Badalona y que abrieron con un London Calling magistral. Presentaban su álbum "Sandinista" y de ese directo surgieron un montón de proyectos de bandas, entre ellos el de un amigo y mío; del concierto de los Brighton 64, con mi grupo ya finiquitado casi sin empezar, salí convencido que lo mod era una forma de entender la vida mediante una visión social crítica, el R&B y la elegancia británica. Brighton 64 era un ejemplo de esos tres preceptos.
Desde esos primeros pasos, y a pesar de haber saboreado el éxito con algunos de sus temas como la conocida "Casa de la Bomba", los hermanos Gil han tenido que soportar, en incontables ocasiones, una injusta crítica feroz por haberse posicionado a favor del modernismo pero también por pasarse a cantar en catalán con Matamala como antes hubo quién les criticara cantar en castellano siendo catalanes. Me da la impresión de que para ellos, dedicar su vida a esto del

rock and roll les ha representado, en demasiadas ocasiones, padecer un verdadero calvario injustificable entre atrevimientos producto de la ignorancia acerca de su capacidad instrumentista y creativa, por parte de algunos críticos que no saben siquiera tocar un solo acorde de guitarra.
Algunas de estas sensaciones son consecuentes con los recuerdos vividos y otras las obtuve al leer el magnífico libro titulado "Bola y cadena, veinte años de eclosión mod", escrito por Ricky Gil y editado en 2003 por Editorial Milenio. Un libro a modo de memorias repleto de anécdotas y detalles personales muy recomendable para conocer unas vivencias artísticas y existenciales de la mano de uno de sus protagonistas que, como advierte en su

introducción, prefiere no acordarse de quién le trató mal. Ricky nos narra, con extraordinaria sinceridad, unos recuerdos como la chapa que trajo de Inglaterra en septiembre de 1981 donde ponía Brighton Mods 64 que dio nombre al grupo, a la vez que nos expone su punto de vista

con el objetivo de que "no todo caiga en el olvido" como se dice al final del libro.
Tras separase a finales de los ochenta y formar sus sucesivos grupos Brigatones, Matamala, más Chest, Top Models, etc… volverían a interpretar las canciones de Brighton 64 en el año 2006. Pude verles en Tarragona, durante las fiestas de Santa tecla acompañados por los Glosters. Sus temas convertidos ya en himnos de una generación volvieron a sonar y esta vez con mejor destreza instrumental, con arreglos más profesionales, pero con la misma fuerza y vitalidad de sus inicios.
Tres años después, adquirí sus dos primeros singles reeditados con excelente criterio por Bip Bip Records ya que en su día no pude conseguirlos por carecer de una distribución adecuada o por no llegar hasta el recóndito paraje de mi pueblo donde vivía. Esas entregas del microcosmos Brighton 64 me devolvieron no sólo parte de mi pasado sino también me permitieron vivirlo de nuevo en mejores condiciones sonoras.
Al escuchar esos discos, no puedo dejar de pensar en la injusticia de todos aquellos que les consideran un mal grupo. Estoy cansado de leer, hasta en los comentarios más entusiastas, que Brighton 64 fueron una banda regular aunque en su favor, eso sí, se les destaca su gran actitud, como si eso les salvara de ser lapidados en público con singles de northern soul. Creo sinceramente que la actitud no es un talismán tan potente como para suplir las carencias artísticas. Así que: o bien fueron una buena banda de rock and roll o bien te obligaste a que te gustaran por estúpidas razones tribales. Tanpoco entiendo como, en cambio, nadie considera malos grupos a los Desechables, o Eskorbuto, o a la Banda Trapera del Río, por citar tres ejemplos más de esas llamadas bandas con actitud, cuyos conciertos comparados con otros combos de los ochenta como Radio Futura, Nacha Pop o Loquillo, podrían ser considerados de mucho más desastrosos y nada profesionales.
Allá cada cual con su concepción de mal o buen grupo, en realidad se trata de una concepción personal absolutamente subjetiva pero ahora bien quien se atreva a decir que Brighton 64 fueron un mal grupo que también tenga la coherencia de observar que el "garage punk" de los sesenta no era más que "chatarra" sin trascendencia o que aparte de los Jam, el resto de bandas de revival británicas eran flojas. En mi opinión, nada de esos es así de tremendo y creo sinceramente que Brighton 64 fueron un buen grupo de rock and roll que consiguió grandes momentos inolvidables y sobre todo nos dio lo queríamos: una banda mod que nos colocó en el centro del universo.
Por eso es importante este aniversario, porque a los que vivimos sus inicios nos encantará recordar viejos tiempos y de aquellos que les criticaron tan salvajemente por entonces, os aseguro que la mayoría ni siquiera escuchan ya nada que no sea la radio de su coche cuando se dirigen al trabajo o, como mucho, siguen escribiendo críticas esperando que el flamenco llegue algún día a ser portada de la prensa especializada británica. Creo que ha llegado el momento de reconocer que los medios de comunicación,

especializados o no, incluidos algunos de nosotros, nunca les hemos tratado como se merecen y por eso me alegra cuando leo alguna crítica en los mass media que destacan el último trabajo de Top Models porque al fin, prejuicios aparte, se deciden por reconocer que no sólo saben de lo que hablan sino que tienen tablas más que suficientes como para aportar grandes canciones, válidas incluso más allá de nuestro maltratado pop rock estatal.
Así que disfrutemos de Brighton 64 sin prejuicios y con ganas de vivir una experiencia divertida. Los que estuvimos al principio, volveremos a sentir ese entusiasmo juvenil que lamentablemente la vida ha intentado robarnos en tantas ocasiones, y los que nunca les han visto en directo, tienen la oportunidad de disfrutarles con la misma actitud mejorada con la experiencia de todos estos años. Sea cual sea tu caso, no permitas que la absurda arrogancia te haga creer que lo harías mejor.
Nota:
Si quieres información sobre la gira del treinta aniversario de Birghton 64 entra
aquí
.