Billy Bryans nació el 15 de septiembre de 1949 en Montreal y murió el 23 de abril de 2012 en Toronto. Formó parte de la banda canadiense de "garage" MG and The Escorts, antes llamados The Strangers, conocidos por la gran canción "A Someday Fool" con su carga de fuzz y el imparable ritmo. La banda se formó a mediados de los sesenta en Montreal por Glenn Grecco, guitarra principal; Graham Powers, voz; Mike Gauthier, guitarra; Glen Stephen al bajo y Bill Bryans a la batería. En sus singles, para la discográfica Reo, se podían escuchar temas como "Please Don't Ever Change", todo un éxito en el Canadá de 1966,

con "Sorry to hear" en la Cara B; o "I Can't Go On" más "The One Who Wants You" en la B. A destacar también la cara B del sencillo de 1967 con "A someday Fool, titulada "It's Too Late", su tema más complejo y escrito por Bill más Grecco.

Su último y cuarto single, de finales de 1967, contenía los temas "Next to Nowhere" más "Remembering" que tambien fue editado en los Estados Unidos con la discográfica Mala.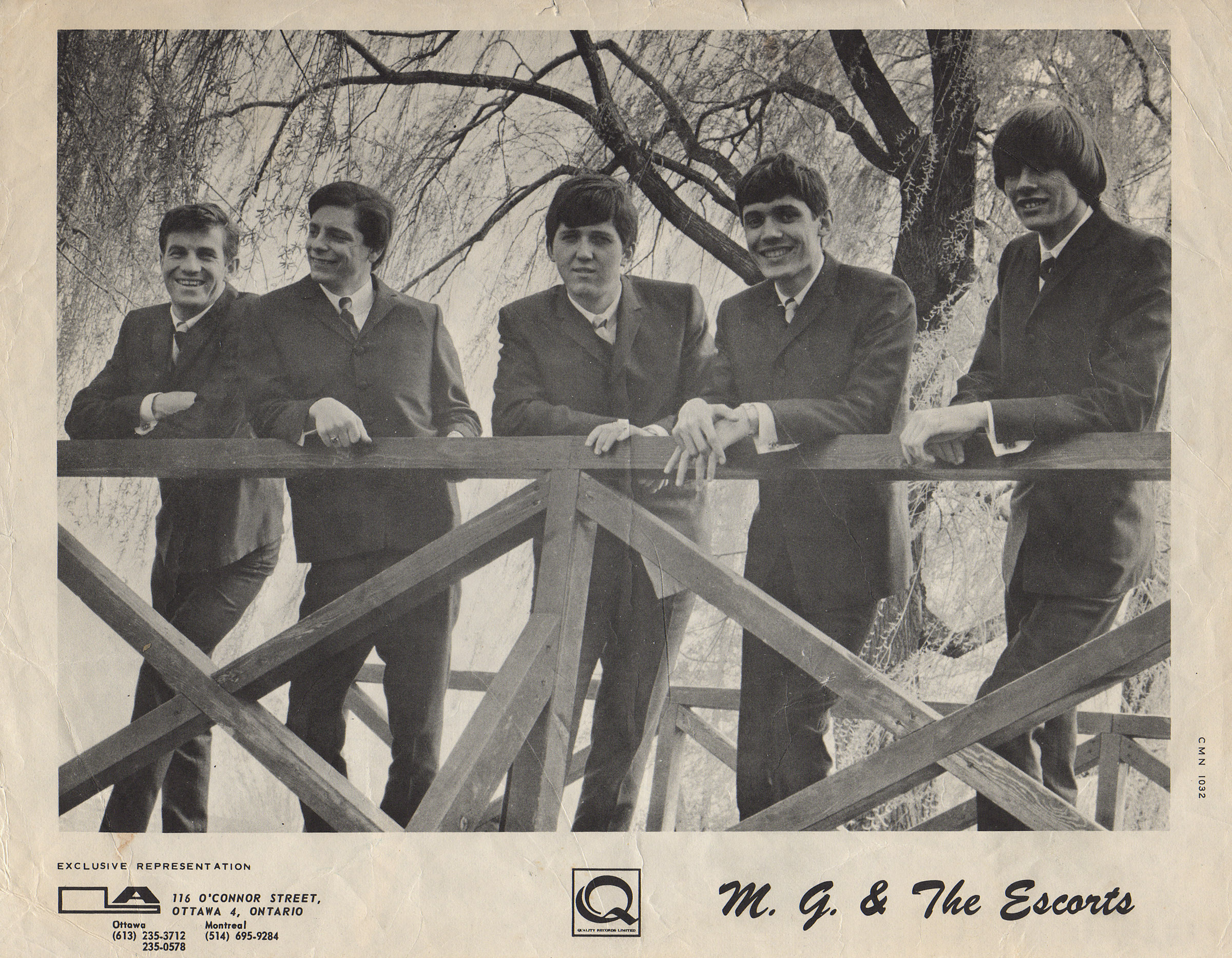 Bill, primero por la derecha
El nombre de MG and The Escorts intentaba emular el de JB and The Playboys, que eran también de Montreal pero de otro barrio. Al parecer el padre de Bill era el propietario de una tienda de música y así podían escuchar los temas del momento antes que muchos. Con la llegada de la psicodelia a partir de 1968, las cosas cambiaron y el grupo desapareció.
Bryans se trasladó en 1970 a Toronto con el grupo Theodore's Smokeshop que antes se lamaría Attic Dust. Empezó a dedicarse al producción y colaboró con la Downchild Blues Band siendo su ingeniero de sonido para el álbum Bootleg (1971), el primer álbum distribuido de forma independiente en el Canadá. En 1972, los Theodore's Smokeshop cambiaron de nombre a Horn y Bryab grabó con ellos a la percusión el álbum On The People's Side.
Siguió con su faceta de productor y colaboraciones esporádicas hasta que entró en ocntacto con la banda V a finales de los setenta para practicar una mezcla de reggae y funk. Después estuvo con los Parachute Club, grupo de tecnopop y fue baterista de los The Government, grupo de punk y new wave de Toronto. En los noventa fue uno de los procudtores de la famosa banda sonora de la película de Disney "Jungle 2 Jungle". A mediados de lso dos mil anunció que padecía un cáncer de pulmón que pudo controlar pero que reapareció en 2012 y acabó con su vida.