The Gundown
son de esos grandes grupos que ya pueden estar triunfando con giras europeas como la que dieron a principios de este 2012, arrasando en conciertos estatales por doquier, y creando discos con canciones que no solo funcionan sino que ponen los pelos como escarpias, que acabarán comparados, de forma muy desafortunada, con otros combos insulsos pero famosos como los Rancid o incluso siendo casi unos completos desconocidos en su propia ciudad. Puede que haya quien piense, incluidos medios de comunicación de pacotilla, que el hardcore, el punk y otras fórmulas musicales, digamos contundentes, no provocan más reacción posible que el echarse unos cuantos empujones de pogo borrachos de cerveza a la espera de reírse si alguien se rompe la crisma al tirarse del escenario. Pues no, amigos y amigas, existe bastantes cosas más a tener muy en cuenta. En mi opinión, se percibe muchísima más calidad musical, y no digamos actitud vital y creativa, en combos como estos Gundown que en la inmensa mayoría de una escena Indie internacional, más pendiente de las fotos y las descargas que de los discos en si.
The Gundown
Dicho esto, si a alguien le puede parecer exagerado, que sepa que no es nada comparado con la contundencia sin concesiones con la que se desenvuelve el nuevo disco de los tarraconenses Gundown: su flamante Ep grabado y editado con Víctor de Fierro! Records de Zaragoza bajo el título genérico de "Pride". Contiene cinco convincentes temas donde el hardcore marca de la casa aglutina numerosas influencias del punk y el revival de finales de los setenta con el único objetivo, conseguido, de dar forma a canciones en su más pura esencia, o sea con melodía emocionante y ritmos endiablados más letras cargadas de orgullo, lucha y determinación existencial. Empieza con el tema "Need Our Pride Back" en el que esas guitarras omnipresentes consiguen dimensionar una voz principal que se despliega entre fraseos desgarrados a la búsqueda de estribillos de puño en alto. Energía y vitalidad por doquier con sugerentes solos de guitarra que, con la entrada rítmica de la batería, dan paso al siguiente corte llamado "The Shinning" en el que no faltan esos coros guerreros que electrifican las emociones a flor de piel.
A continuación nos regalan un salvaje "Young Gun" que, como el nombre del grupo, rememora a unos Clash en su primera época. Le sigue "Because Of You", otro tema excelente que se despliega con un dominio de guitarras impresionante, incluidos guiños a grupos muy conocidos como los Jam en su faceta más punk mod. Acaba el disco, que se hace tremendamente corto, con la canción "Wartorn", otro ejemplo gratificante de excelente hardcore en la que descargan toda esa facilidad innata para crear verdaderos himnos con un estilo propio que debería situarles en lo más alto de los altares no solo del género sino del rock and roll a nivel internacional. Puedes escuchar "Pride" en su
bandcamp
.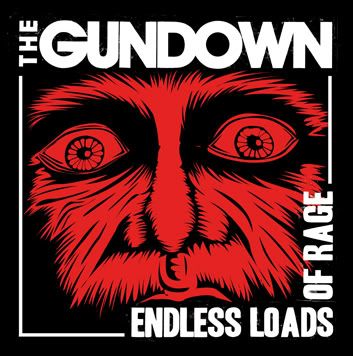 Los tarraconenses
The Gundown
son Quim, guitarra, Marc, batería y Beni al bajo y voz principal. Anteriormente llamados Isolation se forman con miembros de Caza de Brujas y otros grupos de hardcore, punk y metal.Se crearon en 2007 y grabaron una demo anterior titulada "A tribute of Isolation" que les abrió algunas puertas en el mundo del punk hardcore. ese trabajo ha sido reeditado recientemente con un 10" con posibilidad de conseguirlo en vinilo negro y azul. Con VonDänikens compartieron un esperado Lp, editado en 2009 por los valencianos Punk machine y los alemanes Subwix. Cinco magníficos temas de punk rock por grupo, cuatro propios y una versión, agrupados para regocijo de sus fans bajo el título de "Bomb this city".En 2010, los Gundown sacaron un álbum editado en vinilo, con código de descarga y en color rojo o negro, titulado "Endless Loads Of Rage" donde se incluyen 14 temas altamente creativos de punk rock como "From Death to Broken Nose", "Face teh Lie", "Missing Parts" o "Requiem for the Mud Men", editado por Sell Our Souls
.Tras este último Ep con el título de "Pride", la banda tiene intención de grabar un Lp.
Los tarraconenses
Von Dänikens
se formaron en 2004 y en 2009 editaron un Cd titulado "12 Hot Shots" (United Kids Records. Alemania), cuya edición en vinilo sale en 2010, más un split con los gallegos Post Mortem a finales del 2009 con 2 canciones cada uno. A principios del 2010, sacan un Lp compartido con The Gundown. Tienen pendiente sacar otro split LP con los Malas Lenguas de Sabadell, con 6 temas cada banda.
La banda la forman Quim (guitarra) e Iñigo (voz) tras Ajuste de Cuentas, con Aithor al bajo que tocó en grupos como La Venganza de los Suzzios y Los Malditos, entre otras, y a la batería, Metra, que procedía de One Drop y Cuerda Floja. Después se les une Cuni en la guitarra rítmica, que se quedó con ellos un año y medio antes de dedicarse a su banda Rebelion. Fue reemplazado por Pau, miembro de Streetpunk III Grau y también en Bilderberg Project Destruction. Aithor deja la banda en 2009 y entra Nico, de Demenzia que también tocó en La Venganza de los Suzzios. El repertorio de los Von Dänikens no está exento de crítica social sin desperdicio alguno de la mano de su hábil y creativo cantante Iñigo " resistiendo contra viento y marea", recursos instrumentales bien delimitados, y arreglos demoledores. Otras bandas relacionadas con nuestros protagonistas son Sir Mothman & The Conspirators con Iñigo como cantante y Quim en Crim, Truckstop Maniacs o en los ya mencionados The Gundown. Los Von Dänikens estan preparando nuevos temas para su próximo disco.
Para completar este breve repaso a la escena punk hardcore de Tarragona podríamos citar a los
Crim
, grupo formado en 2010, con Adrià Bertran, guitarra y voz; Quim Mas, guitara y voces; Javi Dorado, bajo y voces; y Marc Anguela, batería y voces. Tienen grabadas siete canciones en un trabajo autoproducido con el título de "10 milles per veure una bona merda" que salió en 2011. Contiene temas explícitos, reales como la vida misma, reñidos con la indiferencia, y enfadados con la autocomplacencia como "Tarragona dorm", "Engranatges", "No em fas falta" o "I ara et sents trist".