Iniciamos una nueva sección fija del Magic Pop en colaboración con la prestigiosa tienda de discos de Valencia,

Discos Monterey

. Cada semana vamos a presentaros un trabajo discográfico mediante una reseña y un documento audiovisual de uno de los temas del Lp o sencillo recomendado. Los textos correrán a cargo de Magic Pop, con la asesoría musical de Monterey.
The Monks son un grupo de culto para todo amante del "garage" que se precie. Lo formaron cinco soldados estadounidenses, destinados a principios de los años 60 en bases militares de Alemania Occidental, que deciden montan una banda de rock and roll. Los integrantes eran Gary Burger (guitarra solista y primera voz), Dave Day (banjo, inicialmente guitarra rítmica) y vocalista (murió el 10 de Enero del 2008), Larry Clark (órgano y voz), Eddie Shaw (bajo y voz) y Roger Johnston (Batería y voz, murió el 8 de Novembre del 2004).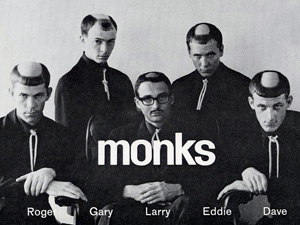 Gary Burger y Eddie Shaw crearon primero The Torquays, y cuando se amplían a cinco se hacen llamar The Five Torquays versionando a Elvis Presley, Chuck Berry, The Beatles, The Kinks… En 1964 se licencian, se manifiestan contra la Guerra del Vietnam, y se quedan en Alemania. Aparecen Walter Niemann y Kart H. Remy, que se convirtieron en los managers de la banda. Cambian su nombre por el de Monks, se visten de negro riguroso con cuerdas a modo de alzacuellos y se tonsuran la coronilla del pelo.
Con unas canciones minimalistas, guitarras distorsionadas, saturados de feedback y múltiples acoples, el bajo a un gran volumen y una mínima batería metro-nómica, más un banjo eléctrico y primitivos sintetizadores atonales, se convierten en unos precursores de cómo mínimo tres cuartos de la música "garage" y punk que les seguiría muchas décadas después. "Black Monk Time" (Polydor 1965) fue su único álbum. En 1999 se reunieron para dar varios conciertos. Este single que te recomendamos se editó cuarenta años después de ser grabado con los temas 'Pretty Suzanne' en la cara A y 'Monk Time' en la B. Se grabó en 1965 como demo y en 1966 en el Tonstudio Pfanz de Hamburgo. Polydor consideró la canción Pretty Suzanne demasiado "rara" y la aparcó sin salir ni siquiera en su primer álbum. Realmente es un tema hipnótico, sorprendente para la época, que no desentonaría en el repertorio de centenares de grupos posteriores de "garage", "punk", "after-punk", etc.
Discos Monterey

tiene un amplio catálogo de estilos

,

Surf, Garage, Psicodelia, Pop, Progresivo, Folk, Hard rock, 70's, Punk

,

desde los cincuenta hasta la actualidad con preferencia por los discos de vinilo. Hay que destacar también que, en estos momentos, su responsable, Víctor, lo es también de dos líneas de edición discográfica: Discos Jaguar, con los que han visto la luz el primer Lp de los Pataconas y el primer Ep de los Midnight Shots, así como otro sello llamado Discos Monterey con el que salió el primer álbum de Sonlosgrillos.
Podrás encontrar más información sobre los discos disponibles en Discos Monterey Bar en su

web

o en Carrer de Baix, 46 en Valencia.