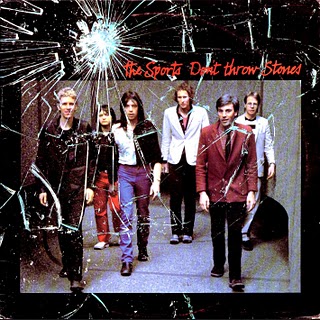 The Sports
El músico australiano Jimmy Niven, murió el 9 de abril de 2012 en Melbourne. Había formado parte, como pianista, de los Pink Finks, Captain Matchbox Whoopee Band, y The Sports.
Los Pink Finks eran una banda de pop y R&B formada a mediados de los sesenta en Melbourne. En 1965, tres escolares, cantantes y guitarristas: Ross Wilson, Rick Dalton y Ross Hannaford aunaron fuerzas e ilusiones para sonar como los Ventures y los Shadows. Eran menores de edad y a menudo debían de ser acompañados por sus padres para poder llevar a cabo conciertos en lugares done tenían prohibida
la entrada. Pronto
cambiaron su repertorio para integrar versiones de blues y temas de R&B por influencia de los Rolling Stones, Pretty Things y Yardbirds. David Cameron substituyó a la guitarra a Rick Dalton en 1965.
Los Pink Finks editaron cuatro singles durante su breve carrera con una versión del Louie Louie, así como algunos covers de las Shirelles o del Spencer Davis Group. Por la banda pasaron el baterista y más tarde director de cine, Richard Franklin, o el bajista Geoff Ratz. Estos dos, más Cameron, a principios de 1966 se fueron a la universidad y se incorporaron Chris Kinman al bajo, Leigh Lansdown a la batería y Jimmy Niven a los teclados. Michael Edwards se añadió como trompetista y saxofonista.
Cuando la banda se separó, Franklin se dedicó al cine y se convirtió en un afamado director que murió en 2007. Cameron también se pasó al cine como actor y actualmente es profesor en la academia australiana del séptimo arte. Wilson y Hannaford continuaron en la música con varias bandas como The Party Machine y la más famosa, los Daddy Cool en los setenta. Kinman recobró su oficio de artesano de guitarras y llegó a inventar una pastilla para eléctricas con una empresa que llamó Kinman Guitar Electrix. Leigh Lansdown creó una banda llamada The Harris Tweed Band.
Jimmy Niven pasó a formar parte de la jug band, con toques de blues y jazz, Captain Matchbox Whoopee Band de
1973 a
1976, con Jim Conway, con la que consiguió algunos éxitos como los temas 'My Canary Has Circles Under His Eyes' y 'Wangaratta Wahine'. En 1976 formó The Sports.
The Sports fueron una banda australiana de pub rock y new wave, muy influenciada por Elvs Costello y sus Attractions, formada en Melbourne en 1976 que estuvieron en activo hasta 1981. Entre sus temas más conocidos están: "Boys (What Did the Detective Say?)", "Don't Throw Stones", "When You Walk in the Room", "How Come", "Who Listens to the Radio?", "Perhaps" y "Strangers on a Train". Los Sports nacieron con Stephen Cummings que era el cantante de un grupo de rockabilly de Melbourne llamado The Pelaco Brothers, en el que estaba otro de los miembros de la banda, Ed Bates, a la guitarra, más Robert Glover (ex-Myriad) al bajo, Jim Niven al piano (ex- The Captain Matchbox Whoopee Band ) y Paul Hitchins a
la batería. Empezaron
haciendo versiones de Chuck Berry , Billy Emerson , Don Covay , Graham Parker y su primer disco lo sacaron en 1977, era un Ep titulado "Fair Game". El disco llegó a los oídos del NME que les dedicó un espacio bastante favorable. En 1977, se incorporó a la banda otro guitarrista, Andrew Pendlebury (ex-Myriad).
Martin Armiger substituiría a la guitarra a Bates en 1978. Consiguieron bastantes éxitos en las listas australianas, como "Who Listens to the Radio?" (1978), "Don't Throw Stones" (1979), "Strangers on a Train" (1980) o "How Come" (1981); y situaron sus álbumes entre los mejores como "Don't Throw Stones" (1979), "Suddenly" (1980) y "Sondra" (1981). Ese año Stephen Cummings decidió comenzar una carrera en solitario y la banda se separó. El guitarrista Martin Armiger se convirtió en compositor para televisión y cine. Niven colaboró a finales de los ochenta con los también australianos Happening Thang.