El popular cantante "crooner" norteamericano Howard Andrew "Andy" Williams nació el 3 de septiembre de 1927 en Wall Lake, Iowa y falleció el 25 de septiembre de 2012 en su casa de Branson, Missouri, a consecuencia del cáncer que padecía.
Tras su paso por el coro de la iglesia, comenzó cantando con sus tres hermanos en el Williams Brothers Quartet con los que actuó en varias películas musicales de la década de los cuarenta.
En 1953 empezó su carrera como solista grabando para RCA Victor pero sin conseguir ningún éxito. Al año siguiente firmó con Cadence records de Nueva York con los que a partir de 1956 empezó a tener repercusión con temas como la versión del "Butterfly", entre otros. En 1964 se convirtió en el dueño de los masters de Cadence donde grabaron otros grandes como los Everly Brothers, con licencia para Columbia. Cuatro años después, en 1968, crearía su propio sello, Barnaby Records para controlar su propio repertorio y el de otros cantantes de renombre como Jimmy Buffett.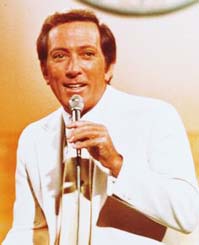 Durante su carrera interpretó temas tan conocidos como "Moon River", que ganó un Oscar en la película de 1961 "Desayuno en Tiffanys", interpretada guitarra en mano por Audrey Hepburn, "Are You Sincere", "Lonely Street", "The Village of St. Bernadette", "Love Story", "Can't Take My Eyes Off You" o "Almost There", entre muchos otros. Consiguió 18 discos de oro y 3 de platino, y firmó en los sesenta el mayor contrato de grabación en los Estados Unidos. Es el cuarto artista que ha ganado más discos de oro en solitario tras Frank Sinatra, Johnny Mathis y Elvis Presley. También trabajó en cine y televisión con notable éxito como el programa The Andy Williams Show de 1962 a 1971 y fue dueño del Moon River Theatre de Branson.
Andy Williams fue un hombre muy próximo a los hermanos John y Robert Kennedy en cuyo funeral cantó el "Ave María" y "The Battle Hymn of the Republic". También se pronunció contra la deportación de Lennon en la época de Nixon a principios de 1970.